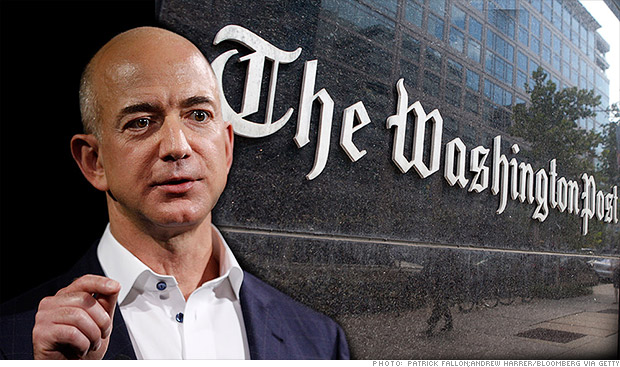 You might have read the news this week that Amazon's Jeff Bezos is buying the Washington Post. You probably didn't read that in a newspaper.
Jeff Bezos has built possibly the most important company of our time. Amazon is fundamentally changing the way the world shops. And after all, shopping is the heart of business. If anyone is going to figure out how to build a thriving media company out of something like the Washington Post, it's someone like him. No disrespect to the geniuses who have been shepherding print media's graceful decline into irrelevance, but it's safe to say that they aren't the ones to figure out the new model.
This deal matters because it's an important bridge between new media and old. So far the model hasn't been very productive:
New media or technology disrupts an old, staid, and marginally troubled industry, sending it into a downward spiral (music, news, retail)
Most of the new companies have no real business models, no idea of how to build brands, and generally terrible leadership, so they go out of business or at least struggle to become relevant from an economic perspective (anything from pets.com to MySpace, and thousands in between)
We, the buying public, are left without any leadership, and no idea how to make the best use of the new tools available to us. So we collectively lose millions of hours of what could be productive lives, and our trust in marketing, and the companies behind it, continues to diminish.
The cycle continues
I'm sure you can see that this isn't good for anyone. So, let's take this opportunity to learn a few lessons from the guy who might be able to lead us to greener pastures, especially if he can figure out how to keep my hands from getting all inky.
In the back of Zappos CEO Tony Hsieh's audiobook Delivering Happiness (Zappos is an Amazon company, and so is Audible, where I bought the book) is a speech Jeff Bezos made to Zappos employees shortly after the purchase. He offers the following five lessons:
Obsess over customers. He says he doesn't worry about competitors, even though he's in one of the most competitive industries. Instead he worries constantly about keeping customers happy. The competition takes care of itself.
Invent. Bezos says you can invent your way out of any box if you believe that you can. At Rebel, we have four rules that push us in this direction:
Be tenacious. Never stop finding better solutions.
Ask more questions. People will often give you the answers you need if you just keep asking questions.
Learn every day. Don't wait for an annual review to find out how you're doing. Don't wait until the project is completed to figure out what went wrong. Take a few minutes every day to examine what is working and what isn't and make adjustments in real time.
Win as a team. Leverage the collective wisdom of other Rebels, vendors, partners, clients. And while you're doing that, don't just cover your own ass, but make sure you have their backs as well.
Invent on behalf of customers. Don't expect them to tell you what they want. I had a client recently suggest that asking the brand's Facebook fans "What do you want from us?" would be a good way to develop a marketing strategy. Unfortunately, it doesn't work that way. Customers pay you to figure it out so they don't have to.
Think long term. Quick fixes probably don't work, and too many companies are in a perpetual cycle of fixing their quick fixes. Be willing to be misunderstood and stick with what you know. That will create long term value for your customers and your brand.
It's always Day 1. Don't let the mistakes of the past become the mistakes of the future. Put another way: It ain't where you're from; it ain't where you're at. It's where you're going.